Hans Baldung gen. Grien
Schwäbisch Gmünd 1484 - Straßburg 1545


Hans Baldung, called Grien, one of the greatest upper German painters, printmakers and copperplate engravers was born in Schwäbisch-Gmünd in 1470. A short time after his birth, his parents moved to Strasbourg, where Baldung spent his time as an apprentice under a Strasbourg master. As early as 1496 he worked on several paintings in a nunnery in Lichtental, where his sister was a nun. In 1503 he went to Nuremberg, where he worked as journeyman and favorite student of Albrecht Dürer. After successfully completing his time as an apprentice, Baldung returned to Strasbourg, where he received the citizenship in 1509.
During the subsequent years Hans Baldung worked in Strasbourg, Switzerland, Alsace and Freiburg in Breisgau as a painter and copperplate engraver. He produced his most important work, the large high altar of the cathedral of Freiburg between 1512 and 1516.
Alongside this high altar, about 100 further paintings by Hans Baldung survive, which show him as a master, who understands how to take completely new paths of coloration and lend the traditional motifs of his pictures idyllic, fairytale-like and sometimes demonic character. His female figures often appear as seductive allegories.
Hans Baldung's religious pictures, portraits, historical and allegorical portrayals undeniably show the influences of the Swabian school and his master Albrecht Dürer. He entertained a long friendship with Dürer. Up to his death Hans Baldung even kept a lock of hair as a precious relic, which over the centuries moved through the hands of various painters and ended up in the possession of Hofrat Schlosser.
In 1553 Baldung returned to Strasbourg, where he was appointed court painter and member of the High Council. In September 1545 Baldung died in Strasbourg, a wealthy and highly acclaimed man.
Hans Baldung is one of the most important painters and printmakers and, second only to Albrecht Dürer and Hans Holbein, is one of the most productive artists of the 16th century.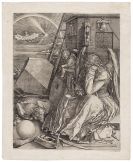 Albrecht Dürer
Melencolia I (Die Melancholie)
166,500 $
Details

Giovanni Battista Piranesi
Veduta di Campo Vaccino
1,110 $
Details